An elected official gets grilled about transportation, so she asks her staff how transit access in her district compares to other districts in the city. What parts of the district are deficient, and what types of constituents (how many, what income/race) are affected by this deficiency?
Location: Tottenville/Great Kills community district in Staten Island
Tottenville/Great Kills, the Southern-most community district in Staten Island is very poorly served by transit in an otherwise transit rich city. It is important to note that although transit is available in to all parts of the community district, 40% of the district is not served by high frequency transit (service every 15 minutes or less). Equitable access is diminished due to fewer jobs accessible by transit, higher transportation costs, and less mobility options compared to other districts.
A specific example of a transit-deficient neighborhood is a majority owner-occupied block group (Block Group: 360850208031) which has access to only 3% of the jobs accessible in a 30 minute transit trip compared to the average block in NYC (36,940 compared to 1,346,702).
• Transit Performance Score –8.1 (versus 8.8 for Staten Island and 9.6 for New York City)
• Households near transit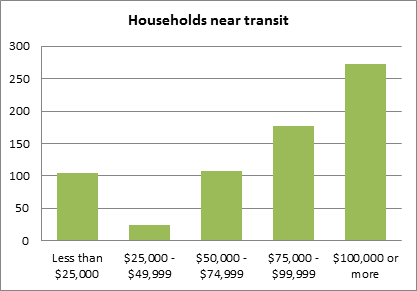 • Commuters near transit – Eighteen percent of the 853 commuters who live within ½ mile of transit use public transportation for commute, compared to 30% & 59% of commuters in the county and city respectively.
• Transportation cost – The regional typical household would pay 16.3% (compared to 8.8% for the city) of their income towards transportation costs in this block group. This can be attributed to the poor transit connectivity requiring them to own cars to get to work and for other trips.
• Transit Connectivity Index – 23 (versus 25 for Staten Island and 46 for New York City)
• High Frequency Transit – The block group has no access to high frequency transit routes within a ½ mile. In comparison, the average block group in Staten Island and New York City has access to 4 and 16 high frequency transit routes within a ½ mile.